A world-renowned expert in infectious disease, Professor Horgan was received the UCD Alumni Award in Health and Agricultural Sciences at the 2019 awards.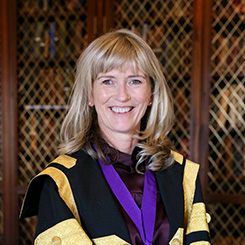 Professor Mary Horgan
Originally from Kerry, Professor Horgan graduated from UCD with a degree in medicine in 1986. She was awarded her Fellowship of the Royal College of Physicians of Ireland in 1997. She is currently a consultant in infectious diseases at Cork University Hospital.
During her career, Mary has become a national and international leader in medical education and training, in infectious disease and public health and has spearheaded education and scientific education in Ireland.
Mary's work to date in this field has been instrumental in reversing the downward trend in uptake of HPV vaccination from 50% to 71% in one year.
Previously Dean of the Medical School in UCC in 2013 for a 4-year term, Mary has become a role model for a generation of medical graduates and trainees.